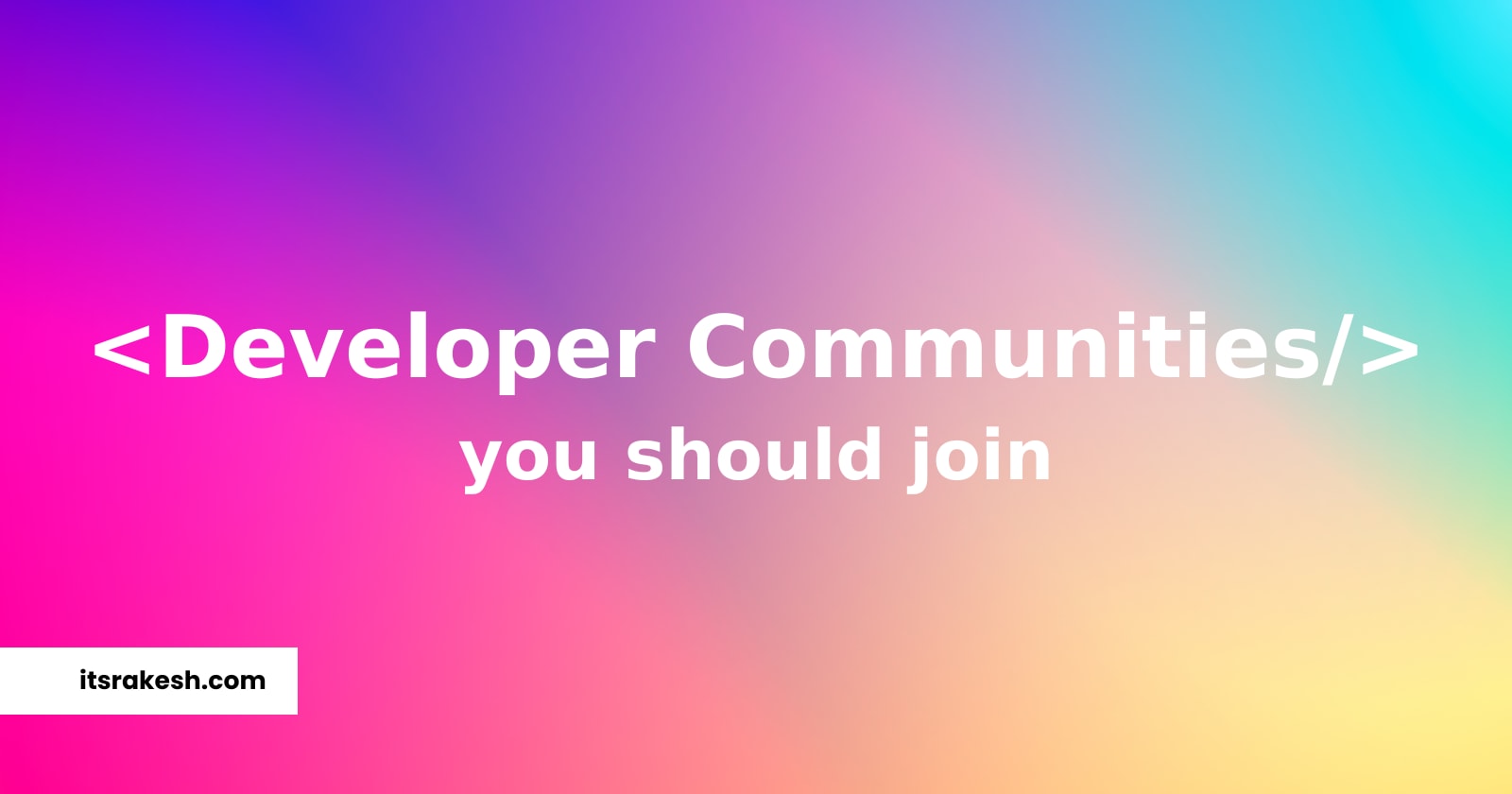 ---
Most active Developer Communities you should join in 2022
The most difficult challenges for self-thought developers are: finding resources, mentors, opportunities, and so on. But most self-taught developers don't realize there won't be problems like this if they involve in communities and especially the right ones. So, in this blog, I'll tell you about my favorite communities of all time and how they can help you. These aren't just any communities I found by googling. I've been in these communities for over a year.
Let's get started
In case you're unfamiliar, developer communities are communities created by developers for developers. This is where developers, devrel, dev enthusiasts, and anybody else interested in development hang out, interact with like-minded folks, share opportunities, what they're building, learning, and so on. Communities are for everyone; there will be no bias; no one cares which college you are from if you are a beginner or an expert developer, a 10-year-old or a 70-year-old.
Showwcase is a social media platform built for developers. Literally, every feature on this platform is developer-focused 🤯.
What you can do?
Network with other developers.
Share what you are building and get feedback from the community.
Ask your doubts.
It has a " show " feature where you can write blogs, showcase your product, and share podcasts and videos.
Join communities - There is a community for everything and everyone. ReactJs community, Java community, blockchain community, meme community 😶 and more.
Share your profile with a custom domain - showwcase gives you a free showwcase subdomain domain or you can use your own domain for your profile. For example, my showwcase profile - https://showwcase.itsrakesh.co/
and many more...
Where can you get involved?
MLH is my favorite hacker community (Hackathons - not hacking). They conduct hackathons every weekend. If you are starting your dev journey then you should participate in their WEEKLY hackathons. If you are 18+ and then apply for MLH Fellowship - Fellowship is a 12-week internship alternative in which you learn and use your skills by working on real-world projects that are used by millions of people.
What you can do?
Participate in weekly hackathons.
Learn and build together.
Learn by doing.
Grow your skills.
Where can you get involved?
3. Aviyel and Eddiehub
If you want to start your Open Source journey then there are no better places than Aviyel and eddiehub.
Aviyel supports the growth of Open Source communities. Folks at Aviyel are so creative and supportive. You can begin your Open Source contributions with one of their onboarded projects and get rewards for your efforts. You can always ask your doubts if you feel stuck.
What you can do?
Attend events to learn more about projects that have been onboarded.
Create content for your favorite projects.
Be recognized for your contributions.
Make connections with other Open Source contributors.
Where can you get involved?
EddieHub is an inclusive Open Source community. Collaboration is their top priority. If you are struggling to start your first contribution then do join ASAP.
What you can do?
Share your Open Source projects and get feedback from the community.
Collaborate on Open Source projects.
If you're stuck, get help.
Where can you get involved?
4. Postman Student Community
Are you an API enthusiast who is constantly developing API hacks? The Postman Student Community is the place for you.
What you can do?
Anything APIs
Participate in API events.
If you are a college student then you can apply to become a Postman Student Leader and educate your peers about APIs.
Explore what's happening in the world of APIs and get involved.
Where can you get involved?
I observed almost all the web3 communities are active and supportive, but buildspace is the first one I've been introduced to, and it's great.
What you can do?
Anything web3
Learn together with interactive courses
Build together
Find opportunities
Where can you get involved?
I began my technical writing journey with Dev, and the support was amazing. You can talk about various topics and show off your creations. Fun fact: You will see that comments are more popular than articles 😂. This demonstrates how much they support each other ✊.
What you can do?
Ask your doubts openly or discuss any topic - Dev is not a 100% blogging platform.
Participate in events and hackathons.
Improve your writing skills.
Where can you get involved?
That's it!
---
I know there are so many active communities that it's hard to include them all, so I've highlighted a few with which I've been involved for a long time. So please share your favorite communities in the comments.
---
LEAVE A COMMENT OR START A DISCUSSION
MORE ARTICLES
Let's build and deploy a full stack MERN web application
I am sure that when you first begin learning full stack web development using the MERN stack, you will have questions like "What is it like to build a full stack application?" What exactly are frontend and backend? How do we connect them? Is there any magic? etc., So I'm writing this tutorial to address your queries and show you how to build a full-stack web application.
What are dApps? How they are different from normal apps?
Have you heard of decentralized applications, often known as dApps? They're definitely one of the most important concepts in the blockchain ecosystem, but they're not something that everyone has heard of. There are numerous myths surrounding dApps, and from a technical standpoint, they are vastly different from your typical app. Let's figure out exactly what dApps are.